Patricia "Kim" Palmer, M.Div, M.S.P.H., BCC
Senior Research Consultant, Woodruff Health Sciences Center, Emory University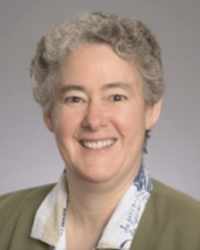 Ms. Palmer is board-certified chaplain with a Master of Divinity from Emory University and over 5 years of clinical experience. As a Transforming Chaplaincy Fellow, she earned a Master of Science in Public Health from Emory University and brings her research training and experience to the Woodruff Health Sciences Center where she helps to coordinate and execute research studies in spiritual health from design to publication.
Education
Master of Science in Public Health, Epidemiology | May 2018 | Emory University, Atlanta, Georgia Thesis: "Stressor Prevalence, Grouping, Distribution, and Association with Anxiety among Hospitalized Patients: A Precursor Study for Developing Targeted Chaplain Interventions"
Master of Divinity | May 2013 | Emory University, Atlanta, Georgia
Bachelor of Science in Chemical Engineering | May 1983 | Lafayette College, Easton, Pennsylvania
Research
Our current research program is focused on evaluating the incorporation of Cognitively-Based Compassion Training (CBCT) into clinical pastoral education (CPE). We are evaluating the effects of CBCT on chaplain residents' wellbeing and spiritual care skills along with impacts to patient and provider wellbeing from Compassion-Centered Spiritual Health (CCSH), an interventional approach in which spiritual care providers bring the insights and concepts of CBCT to bear in spiritual care delivered to individuals or groups. CBCT and CCSH are being investigated as foundational to quality chaplain training and to staff reliency and burnout-prevention programs.
Publications
W Cadge, G Fitchett, T Haythorn, P Palmer, S Rambo, et al. (2019). Training Healthcare Chaplains: Yesterday, Today, and Tomorrow. Journal of Pastoral Care and Counseling, 73(4), 211-221.
MJ Ash, ER Walker, RJ DiClemente, MP Florian, PK Palmer, et al. (publication pending). Compassion meditation training for hospital chaplain residents: A pilot study. Journal of Healthcare Chaplaincy.
Responsibility
Support research projects in spiritual health, create and deliver research literacy training for residents and fellows, assist with orientation training of CPE participants, and mentor fellows through the board-certification process.